---

The CardRescue download should start automatically. If it does not, please click here.

The download works with Mac OS X only. If you need a Windows version, please click here.

Please download and install it on your hard drive instead of memory card to avoid possibly overwriting.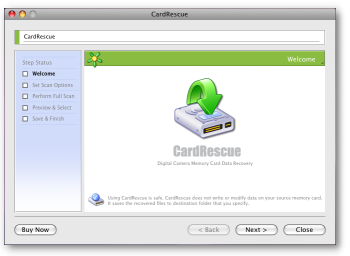 Steps to recover lost pictures from a memory card


Using CardRescue is secure and risk-free. The software does not write anything to or modify the data on the flash card. It rescues the photos from the card and saves them to a folder on your hard drive.

Uninstall: CardRescue does not install any files to system folders. So uninstalling CardRescue is easy and you may simply remove CardRescue.app from your Downloads or Applications folder.